The best organization design books are insightful for both seasoned professionals and those new to the concept. Here are a few favorites from the ON THE MARK team.
Organization Design: Simplifying Complex Systems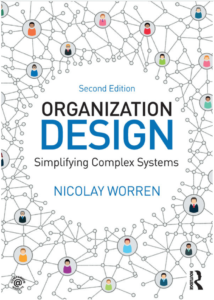 by Nicolay Worren
While Organization Design: Simplifying Complex Systems follows more of a textbook format rather than light reading, it provides an insightful overview of organization design.
As the author suggests, the amount of literature available on the topic is quite limited. For those familiar with the topic, it is filled with in-depth information and many citations to relevant research to support credibility. Even so, the author presents the knowledge in an easily digestible way.
If you're interested in organization design, you'll gain exposure to new concepts and learn about new application tools or topics and questions you can ask of the organization designers in your professional life. However, you shouldn't expect of step-by-step guide on how to become an effective organization designer.
To read more about some points of interest, find a comprehensive review of "Organization Design: Simplying Complex Systems" here.
Bridging Organization Design and Performance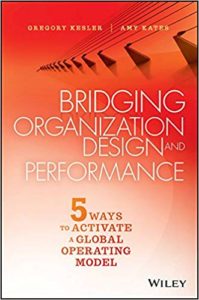 by Gregory Kesler and Amy Kates
Kesler and Kates' "Bridging Organization Design and Performance" provides a clear picture of the 'what' of organization design. However, clients might be left with the question many are now starting to ask; 'how exactly do I carry out the activity and implement the work?'
The book could have dwelt on the issue longer of 'how' a bit longer. While the toolkit included in the last chapter of the book does have some good tools to complete some of the work, many of them focus on diagnostics only.
However, the book does provide great insights into how you might want to answer those tricky questions about designing the organization. We especially appreciated the discussion about 'layers' and 'power' as these are two areas that are the source of much debate. Though the book has the global context in mind, it's equally applicable to any organization regardless of its size or the change effort required.
In summary, as its title explains, this book is especially useful for the phase after you've made your major strategic decisions regarding the design of your organization. We found the book a good read and it's added to the growing quality of organization design books. It's useful both for business leaders and change managers of organizations as well as for those of us on the consultancy side of the fence. Valuable insights are well articulated by two experienced practitioners.
Data-driven Organization Design: Sustaining the Competitive Edge Through Organizational Analytics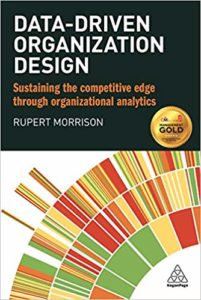 by Rupert Morrison
In Rupert Morrison's book "Data-Driven Organization Design", he brings to life how he sees the organization design processes being changed by the tools now available to us to analyze and present organizational data. He makes the bold claim that this will disrupt how Organization Design is currently thought about and practiced. He is not far wrong!
The book presents a methodology for using data analytics as a tool to enable a more effective organization design process and focuses on those areas where well thought through analysis will lead to insight driving better design options, choices and decisions. Because of its focus on data the book does not cover all the bases of organization design from start to finish; it rightly focuses on those aspects where good analytics add value to the process. Thus, it is not a "cook book" but a series of new ingredients to add to the recipe which will result in a better outcome. It is a book to keep by your side and dip into at key decision points in the overall organization design.
We would highly recommend this book to people who know how to do collaborative organization design work well.
Optimizing Organization Design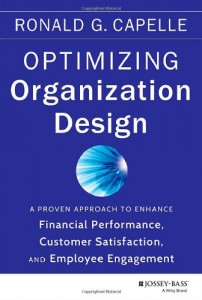 by Ronald G. Capelle
This is, on first sight, a big book at 462 pages. However, the book itself is only the first 199 pages, the remainder is made up of 24 pages of client testimonials, 137 pages of research, 55 pages of case studies and then a glossary and references. As you work your way through the book, which is not by any means an easy read, a number of core themes become clear as his methodology is revealed.
"Optimizing Organization Design" is an organization design approach which is very loosely based on Elliot Jaques' work on Requisite Organizations and James Miller's work on Living Systems. Capelle brings these together to present an expert led organization design methodology in which the expert assesses, recommends and then helps the organization implement through a top down cascade approach. The core of the approach is based around the alignment of positions, authorities and accountabilities.
Don't put this at the top of your list for organization design books, but there are some useful tools buried inside, particularly when it comes to thinking about organizational shape – levels and spans of control.
---
Let's Talk
---
Peter Turgoose was a Senior Consultant at ON THE MARK.
OTM is the leading global boutique organization design consultancy with offices in the USA and UK. With over 450 successful redesigns and operating model modernizations completed, OTM is owner of the industry's most integrated, comprehensive and holistic organization design solution. OTM enables its clients to realize their future ambitions.