6 minute read
Takeaway: OTM's Virtual Masterclass encompasses a range of organizational design principles, while allowing students to collaborate. At the conclusion of the course, students leave feeling exuberantly more confident in their knowledge of organizational design. 
OTM's Virtual Masterclass spans 5 weeks over the course of 10 x 3-hour sessions. For my class, I was on a team of 10 other brilliant students, supported by 3 members of the OTM team. Right off the bat, we jumped straight into the learnings of OTM's design methodology and phases. It was an exciting, fast-paced workshop that I found extremely rewarding.   
Prior to beginning the Virtual Masterclass, I found the idea of sitting at my desk for 3 hours quite daunting. I think this expectation was influenced by my experiences at university, both undergraduate and postgraduate, where lectures consisted of PowerPoints articulated by (what felt like extremely slow speaking) academics. Much to my surprise, this was not my experience during the Masterclass. The classes are organised in an interactive way that allows the OTM team to present the complex teachings of organisational design whilst allowing time for collaboration and application. Not only was I learning invaluable information, I was also able to put that information into practice with other students.
---
Method of Instruction:
An Active Learning Environment 
The ways that we learn are crucial for when we need to recall and apply that knowledge. In my previous work as a psychologist, I often explained The Learning Zone Model (The Learning Zone Model, Lev Vygotsky) to my clients. This model divides learning into three key zones: the comfort zone, learning zone, and panic zone. Staying in our comfort zone may feel safe, but it doesn't help us to learn. On the opposite end of the spectrum, being in a state of panic is also understandably a barrier to learning. For example, you're not going to learn to drive by sitting in a parked car (too comfortable, "comfort zone") nor by driving blind at 100mph (you should be panicking, "panic zone"). The learning zone is somewhere that we feel psychologically safe to explore, make mistakes, and process new information.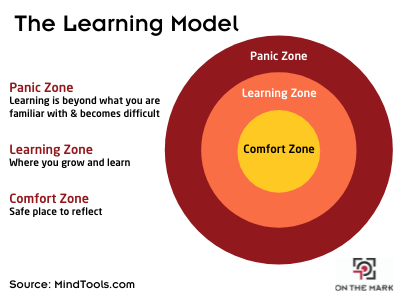 When it comes to the OTM Virtual Masterclasses, there really is no sitting at the back of the class for these sessions. As someone fairly new to the world of organisational design, the Masterclass definitely pulled me out of my comfort zone. Yet, the OTM team created an environment where participants were supportive of one another, different ideas were welcomed, and no questions were deemed foolish.   
Creating A Collaborative Experience
While I set out with the expectation of learning from the experienced OTM team, I was pleasantly surprised at how much I found myself learning from my fellow students as well! Our team of 10 was big enough to cover a range of industries, careers, time zones, and viewpoints, but small enough that we were able to discuss and learn from one another. We worked in small groups of 2-3 students throughout the workshops with varied line-ups, so I had the opportunity to work closely with each member. Whilst OTM prepared handfuls of real-world examples to supplement their teachings, the insights of my fellow students further helped to reinforce and expand on these. These insights included their experiences of working against resistance of organisational leaders, how to facilitate design phases in a virtual environment, and how the OTM methodology compares to previous frameworks they have used.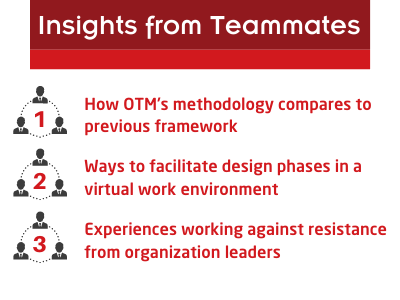 After 'jumping in at the deep end' to learn organisational design through this masterclass, my recommendation is to come on in, the water's great. 
---
Never miss out on OTM blog updates.
Subscribe to be notified whenever we post.
---
Written for OTM by a previous Masterclass participant.

OTM is the leading global boutique organization design consultancy with offices in the USA and UK. With over 450 successful redesigns and operating model modernizations completed, OTM is the owner of the industry's most integrated, comprehensive, and holistic organization design solution. OTM enables its clients to realize their future ambitions.