In case you missed it, here are six key takeaways about implementing the future of work processes into current operating models. Read Thomas Doering's blog post for more background.
Check out more of our events here.
1. How does ON THE MARK make the ideas in Corporate Rebels a reality
OTM brings these ideas to life for clients because we added the future of work considerations to the foundation phase in our organization design solution. Our consultants require and guide clients through these considerations before moving forward with the design process. This proactive approach means the future of work is built into and implemented in the client's operating model. In this way, the future of work is integral to OTM's solution and not viewed as a separate piece of the puzzle to deal with later. A big distinction between how other companies approach the future of work and OTM's approach is that we emphasize networking these ideas through the company at the onset.
2. What are the core actions to enable these recommendations?
Three core actions include:
3. How can leaders make these ideas a reality?
Making sure that the redesign process is done correctly and that decisions are made in the proper order can be a key step in making an organization's workplace goals a reality. However, in some cases where there are difficulties in implementing these goals, an organization may not have the right leaders in place. Leaders need to live the organization's operating model and ensure technology is being used effectively. Also, it is essential that leaders and managers understand the technology, know what it is doing for the organization, and that they do not interfere with the design work.
4. Why is this a game-changer for organizations?
With significantly more people working from home, there are more obstacles for employers. For some companies change is taking place at two levels: build out a new organization design while adjusting to the way people work and the preparation of that work done virtually. With these obstacles, there needs to be more organization in the "office" and a greater amount of quality team communication. Working in a virtual environment requires more detailed planning and organization around projects.
5. What kind of tasks are solved in meetings?
There are five main reasons for a meeting: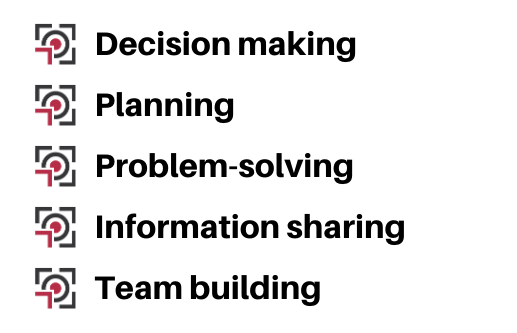 OTM recommends that organizations focus their meetings on decision making and problem-solving as much as possible and reduce the amount of information sharing, which can be done through other methods of communication. The fact that people are together does not classify the event as a meeting. When people meet to coordinate there is a hugely different experience than when people meet todo value-adding work. However, most organizations default to using meetings for information sharing instead of doing work. In these instances, the leaders an organization has in place can make the difference. Good leaders and managers can integrate all of their roles and be able to complete them effectively.
6. What is the difference between coordination and integration?
Coordination involves making sure people are doing the right things at the right time. Integration is ensuring that all of the pieces of a project or work come together to create the desired outcome.
---
Never miss out on OTM blog updates.
Subscribe to be notified whenever we post.
---
OTM is the leading global boutique organization design consultancy with offices in the USA and UK. With over 450 successful redesigns and operating model modernizations completed, OTM is owner of the industry's most integrated, comprehensive and holistic organization design solution. OTM enables its clients to realize their future ambitions.