Every company is in the business of monitoring and adjusting to changes within its business environment. Whether it be from external or internal sources, businesses have to address changes to stay competitive.
Over the next few weeks we'll be discussing trends in organization design and each week we'll highlight a different trend. So far, we have talked about automation and scalability, routine and dynamic planning, and this week, we will be discussing the dilemma of remote work.
---

Organizations are using the power of relationships and technologies such as Zoom, Microsoft Teams, etc. to create value through virtual connections. Businesses that have previously had strict "no work from home" policies are now forced to have a remote workforce due to safety precautions. It's important to note that working from a remote location is not a major change to an operating model in and of itself.
There have been studies released that workers in certain industries are less productive working from home due to the additional restrictions that COVID-19 brings. JP Morgan Chase, for example, has asked their employees to start coming back into the office to increase productivity. In the present pandemic environment, work/life balance may not be an issue for all employees. Parents, however, are facing increased challenges from working a 40-hour workweek, juggling childcare, and teaching while schools are shut down. This situation creates a very hectic and unproductive work environment and organizations need to meet this need head-on. On the other side, companies like Microsoft have given their employees the option to permanently work from home with manager approval.
Most companies are missing the important takeaway from this change. Rather than retraining leaders to manage remote workforces, it is critical to have the correct change management mechanisms in place to adapt. Work itself, for the most part, has not changed. Instead, the boundary of work of the individual has changed.
It is also important to continue active collaboration, for instance, work completed in an in-person workshop. This is where virtual collaboration tools such as Mural or Miro come in. These virtual whiteboards essentially allow companies to work collaboratively, whether through implementing design thinking, brainstorming prototypes, or simply ensuring the engagement of participants on a call. By encouraging individuals to actively participate in a tool, writing their opinions and thoughts during a call, it can increase virtual engagement, ensuring higher productivity within a team and within the organization.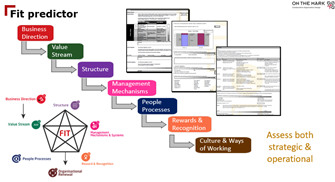 To find out more about virtual tools that are increasingly being used in remote work within organizations, you can refer to "Tools for Virtual Collaboration: Mural vs Miro".
If you're thinking about transforming your business, considering how sustainable the change will be is a decision many people don't consider – but need to. Contact us to learn how OTM uses collaboration to design and implement sustainable transformation.
---
Irena Krstic is a Consultant at ON THE MARK.
OTM is the leading global boutique organization design consultancy with offices in the USA and UK. With over 450 successful redesigns and operating model modernizations completed, OTM is owner of the industry's most integrated, comprehensive and holistic organization design solution. OTM enables its clients to realize their future ambitions.